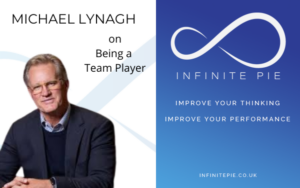 This is a fantastic conversation with Michael Lynagh on being a team player, and he should know. Representing Australia in Rugby, Michael knows what it takes to reach the top and to be seen as one of the best at what you do. He knows what it is like to be part of a World Cup Winning Team. He also knows that there is a lot more to it than just natural ability. Whether it is in sports, business, the arts and entertainment, many people have natural ability that will get them so far. Michael shares how he focused on making sure that he didn't waste his and got to perform at the highest level.
In this conversation, Michael shares how he loved all sports and had natural ability in many of them. Growing up in Brisbane Australia, his first love was cricket and he followed in the footsteps of the great Sir Donald Bradman by practicing relentlessly. He tried putting a ball in one of his mothers stocking and hanging it from the washing line to work on his batting. He strapped a brick to the back of his bat to strengthen the muscles in his forearms. Hours and hours of practice.
The turning point was rugby tour of the UK in the British winter, Australian summer, that meant that his time was spent playing rugby and not cricket. Of course this was rugbys gain, but who knows how Australian cricket might have benefitted if this hadn't happened.
Michael applied the same practice principles to his rugby. As the teams' kicker, he knew that the UK in the winter could be pretty wet, so in preparation, whenever it rained in his hometown Brisbane, he would head off down the park with a heavy leather rugby ball to kick in the poor conditions. This approach would become a mainstay of his career.
It would be easy to assume that when he broke into the Queensland and Australian teams at a young age that he could have thought that he had made it. He could have been full of confidence and feel that he was in his rightful place. Michael shares that he questioned himself and whether he was good enough, whether he deserved to be there.
He knew that his role was to make decisions and direct the play, but he was surrounded by senior players and wasn't sure that he had the right to tell them what to do. The thing was, this was exactly what they were expecting of him. It was only when Andrew Slack told him that, not only was he good enough, but that he (prophetically) believed he would go on to be an all time great, that he really stepped into his role as a playmaker.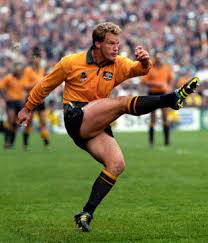 Working on his mindset and mental preparation was a big part of Michael's career. In this conversation you can hear as he shares the story of learning how to hit the 'slow motion' button when preparing to kick, and the benefits it would bring. In fact it didn't just bring benefits to him, as he shared the advice with a top golf pro, who also went on to use it quite successfully.
Michael had a stellar career, representing the Australia Wallabies from 1984 to 1995, was capped 72 times and was captain from 1993 to 1995. He was also the world point scoring record holder when he retired with 911 points. Michael was member of the 1984 Grand Slam winning team that toured the UK and was vice captain when Australia won the World Cup in 1991.
Like a previous guest on the infinite pie thinking podcast and England rugby player Leon Lloyd, Michael is focused on business.
Now the Managing Director of Dow Jones EMEA, Michael can apply many of the core values and behaviours he developed as an elite sports person to the corporate world.
You can hear throughout this conversation that whether it is sports, business, father or friend, Michael Lynagh focuses on being a team player. He is all about helping those around him perform better. Maybe that is something that we could all practice a little more.
If you want to know more about Michael Lynagh, you can read his remarkable book "Blindsided" or follow him –
instagram – @michael_lynagh
Twitter – @lynaghmichael
LinkedIn – Michael Lynagh
Take a listen to the full conversation and let me know what you think.