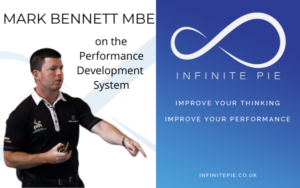 Mark Bennett MBE has spent the last 30 years developing scalable strategies to help individuals and organisations to maximise their performance potential.
This is not about just quick hit interventions.  You will hear how Mark works in a variety of environments to embed his key principles that "Performance is a behaviour not an outcome" and to create the sustainable change required within individuals, teams and organisations.
A former British Commando and senior instructor within the Army Physical Training Corps, Mark has used that experience to design and implement what he calls the Performance Development System. In this conversation you will get a taste of what this system is all about and how you can apply it to improve your leadership, coaching, mentoring, managing and influencing skills. Things like the importance of self awareness, managing your state and ensuring you are in an effective state for the specific requirement and intervention, clarification of what is acceptable, unacceptable and exceptional and the ownership and responsibility of this using the player first, player last approach.
If you want to know about Mark Bennett MBE and his Performance Development System you can check out his website
Take a listen and let me know what you think…