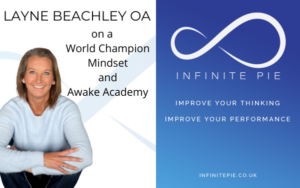 This is an incredible conversation with Layne Beachley, the 7 time World Surfing Champion. Her dedication to success saw her as the only surfer in history to claim six of those titles consecutively. However, with her natural and brutal honesty Layne shares how that wasn't without its consequences. You will also hear, that since retiring from professional surfing, Layne certainly has not stood still. One of her recent focuses is her Awake Academy, which we discuss and explore, reviewing the lessons learned from her experiences and sharing that learning to help others through this program.
For me the lessons from this conversation revolve around taking personal responsibility and ownership for things. It is about learning from others, not copying them, as we are all coming from a different place and perspective. As I have said before, it is about the quality of questions that we ask, and then truly listening to the answers – whether we are asking those questions of others or of ourselves.
If you want to know more about the Awake Academy you can check it out over at awakeacademy.com.au and if you do go through the program make sure you use the code INFINITE10 to get a discount.
To follow Layne –
Website – LayneBeachley.com
Twitter – @LayneCBeachley
Instagram – @LayneBeachley