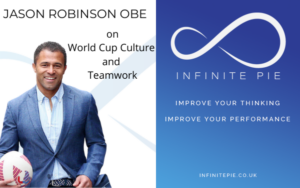 Todays guest is another person who has performed at the elite level, having appeared in 3 World Cup finals for England, both in Rugby League and Rugby Union and was part of the successful World Cup Winning side against Australia in 2003.
Jason Robinson OBE was known for his devastating acceleration, quick feet and balance. Couple this with his decision making and trade mark side step and he was often leaving defending  players grasping at air and struggling to keep up. He was awarded the MBE  for his role in the 2003 World Cup and the OBE for his services to Rugby in 2008.
In this conversation, you will hear how Jason did not let the challenges he faced as a youngster, or the stereotypes of being too small, or not strong enough projected onto him by others,  hold him back.  He drew on the lessons from the strongest person he knew.  His mother.
At infinite pie we talk about ensuring we "Do stuff that matters, with people who count in places that inspire!" It is all about focus on priorities, about teamwork and relationships and of course, culture and environment, including the one inside you, and your mindset. This conversation captures all of that, and demonstrated the importance of dedication, hard work, confidence, positive self talk, trust and resilience.  But it was more than just catch phrases and buzz words. Jason gave context to what it means to be a leader among leaders, to have a voice and be prepared to listen, to go out of your comfort zone and continue to learn something new.
Now in the next phase of his career, Jason is taking those lessons and applying them to business and he shares the role he plays and the value he brings to the teams he now plays for.
If you want to know more about Jason you can find him in the following places –
website – JasonRobinson.co.uk
Twitter – @Jason15Robinson
Instagram – @Jason15Robinson
LinkedIn – Jason Robinson OBE