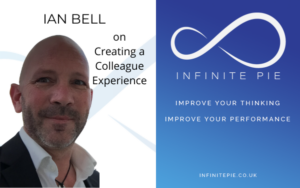 Having spent years running his own development company before joining the global organisation, Sedgwick, earlier this year, who better to speak to than Ian Bell on creating a colleague experience.
During this conversation we discuss his new role as Colleague Experience Director, International, what the role entails and what it takes to create a great colleague experience across multiple functions and countries. We talk about the consideration required for each touch point from recruitment and engagement before someone joins the company, to their induction and ongoing development as well as their day to day roles and responsibilities. There is more to this than Human resources as Ian shares his perspective on Leadership, Teamwork, Culture and the importance of providing quality feedback.
With his background in Learning and Development, Ian shares stories, tips and advice that can be appleid in many aspects of life, both personally and professionally.  This includes the impact and value of quality questions and how this often starts establishing and understanding 'the purpose'. As the quote above states It all starts with purpose and what you are actually trying to achieve.
Take a listen and let me know what you think.