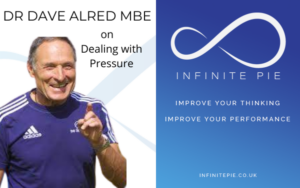 Dr Dave Alred MBE is an Elite Performance Coach who has mentored and coached world class athletes and teams in multiple sports, including Rugby World Cup winner, Jonny Wilkinson as well as George Ford and Johnny Sexton. In golf, he has supported the likes of Luke Donald, Francesco Molinari and Padraig Harrington. He has also worked with the England rugby team, The British Lions, the Springboks, the England Cricket team, and top football teams such as Manchester City and Watford. So who better to speak with than Dr Dave Alred MBE on dealing with pressure, and developing a performance mindset and attitude whilst under pressure and delivering in tense or high stake situations.
You will hear Dave's approach to giving feedback and how he constantly explores how to do things differently, and to keep moving things forward. He has a skill of reviewing, analysing and learning from various sources, and applying this in his approach with his clients, demonstrating that while much of his work is in the sports arena, these principles can be applied anywhere.
This conversation is not about perfection. It is about commitment, about putting your soul into it.  It is about enjoyment and it is about knowing that you will experience the "ugly zone". It is also about knowing that going into the ugly zone is ok, as it helps to focus on the process and effort without falling into 'negativity avoidance'.
If you want to know more about the topics that we discuss then you can check out Dr Dave Alred's book – The Pressure Principle.
Let me know what you think.